Our district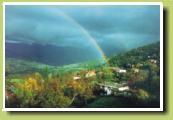 Matesi is a village at the southeast border of Ilia prefecture and it belongs to Municipality of Andritsena. If you want you press here it select the web site of the municipality.
The district around Matesi is being identified by the Alfiow river that is the physical border with Gortynia, Arcadia. At the opposite side there is mountain Mainalon with plenty of villages. Southern of Matesi is the Lykaion mountain that is the physical border between Ilia, Arcadia and Messinia. Closed to Matesi there is the Thisoa (Lavda) village and Karmi. To west we find the villages Sekoula, Dafnoula etc.
In this webpage we have issues relative with the district around Matesi, with Municipalities items.